Regular price
Rs. 599.00
Sale price
Rs. 499.00
Unit price
per
Sale
Sold out
Exclusive Offers

A Free Gift will automatically added once you add to cart.

Get Additional 5% OFF on orders above Rs. 3500 Use code: OFFER5

Get Additional 10% OFF on orders above Rs. 6000 Use code: OFFER10
Free Return

Eco-Friendly

Free Shipping
These wooden toy guns can be practiced for target shooting. this wooden toy gun pistol launches rubber bands. which makes them unique. you will never short of bullets. you can replenish with a packet of rubber bands. These guys are the most favorite toy gift available in the market the feeling of toy gun like real.
These toy guns have a range of about twenty feet.
One can set its shooting range in his or her home. this toy is suitable for all age group
This wooden toy gun is a beautiful replica of an 3 Shots.
It is a well-crafted piece of decoration with all the functionality of a toy gun. if you have a love for guns, you can consider these wonderful toys as a piece of household decoration
Hang it like a trophy. These guns are best to break the monotony and boredom of life.
worldwide Guns are the most loved toy, this is the most amazing fact that guns are the most engaging toys for kids. though STEM toys are the most favored toys by parents children love some more fun. Parents love to spend money on STEM learning toys as a value-for-money proposition.
These gun toys are beautiful handmade pieces of(art) toy. children will love to hold it in their hands.
Quality – made from engineered wood. Materials are recyclable and safe. Our rubber band gun is the safest and most entertaining among all 3d wooden puzzles for kids and adults.
Ready to play and shoot: No messy instructions
A toy by Indian toy manufacturing company.
Share
View full details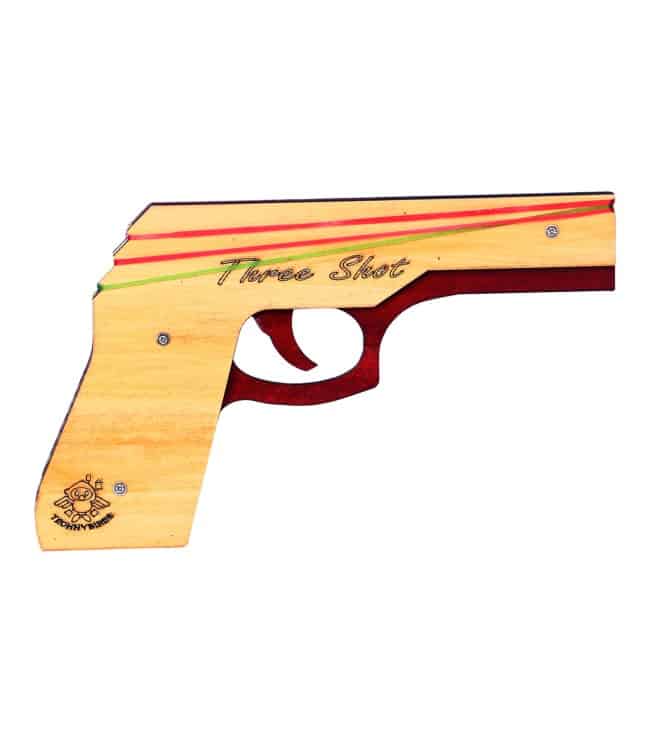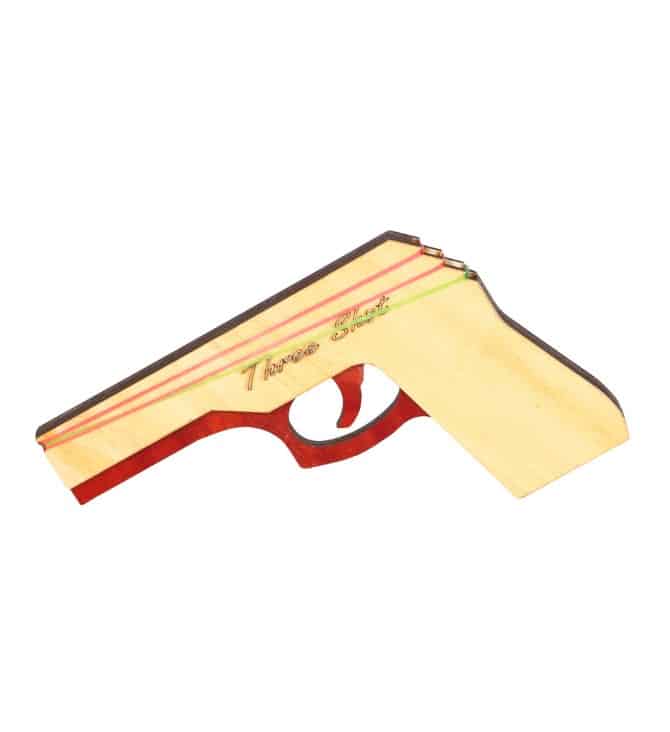 FAQ
How many days does it take to deliver?

Your product will be delivered within 2-3 days.
What can I do if any piece breaks, gets misplaced, or is missing?

We offer lifetime parts replacement and if you ever break or misplace a part or the manual, you can request for a new one.
Are the products designed and made in India?

Yes, we are an IIM Lucknow Incubated initiative and our toys are 100% made in India. Our toys are registered & designed in-house.
What if I get incomplete or damaged product ?

Once you receive the order Incomplete or damaged, Immediately Share a video & photos within 48 hours of delivery we will replace it for free.
Is there a step-by-step instruction manual? Is it easy to make?

Yes, all Technybirds toys come with a well-guided, easy to comprehend instruction manual with step-by-step instructions to follow. Along with written instructions, video links on how to assemble the toys are also available.